Smart Baseball, by ESPN senior writer Keith Law, is a comprehensive and entertaining look at the world of baseball statistics, both the better new ones and some older ones that have lost relevance.
Yes, I'm something of a baseball nerd. Over the years, football has become my favorite sport to sit and watch on TV, but baseball is still my favorite sport to follow. A large reason for that is the game's statistical history and depth. I collected baseball cards when I was young, culminated by having a complete Topps 1983 set.
Keith Law will tell you that many of the stats on your old baseball card are garbage.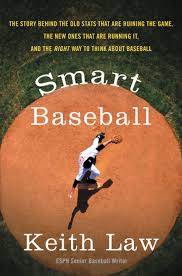 I had learned this previously. In the words of Bowie, it came as some surprise. I missed the Bill James revolution, but internet baseball writers like Rob Neyer, Joe Posnanski, and Keith Law opened my eyes to newer and better stats.
If you've been a participant in the sabermetric revolution, there's still plenty in Smart Baseball for you. The first part of the book, dubbed "Smrt Baseball" ("smrt" is a Simpsons reference, and it's worth Googling if you're not familiar with it) talks about older stats whose time has come. Law tosses things like batting average, pitcher wins, and saves onto the fire, and pillories sacrifice bunts for good measure. Most importantly, he explains what those stats don't tell us, and why they've fallen out of favor over the years. If you enjoy Law's snark, it's displayed most often in this section.
Part 2 ("Smart Baseball") looks at the more modern stats defining the game today. Here is where you'll find OBP, WAR, UZR, WPA, and more. A common complaint of the newer stats is that you need a spreadsheet to calculate them (and, implicit in there, this somehow makes you less of a baseball fan). That may be true, but how many people sit on their couches and calculate batting averages? Even if you don't know how to compute WPA or WAR–and I don't–Law explains them in terms readers can easily understand.
Part 3 ("Smarter Baseball") looks at the future of data in baseball. How are clubs using Statcast info, along with their own metrics, to evaluate players? What's the role of traditional scouting in this data-driven era? These are some of the questions Law asks and answers in this section.
Some of you may be wondering why I'm reviewing a baseball book. After all, I'm a fiction writer, and (I presume) many of the people reading this blog are fiction readers. The reason is that good writing is important, and Smart Baseball is good writing. We as writers can learn from nonfiction, too.
If you like baseball, even if you don't consider yourself a fan of old or new stats, I think Smart Baseball is worth the read. It'll broaden your horizons as a fan and teach you a few things. That's not as awesome as watching your team win the World Series (I've been waiting since 1983; come on, Orioles!), but it's still pretty good.
Definitely recommended.