Tom Fowler is a mystery and thriller writer. He was born and raised in Baltimore and, even though he now lives in the DC suburbs of Maryland, still considers Baltimore his home. Tom is an unabashed homer for Baltimore sports teams. His full-time job is in the field of computer security.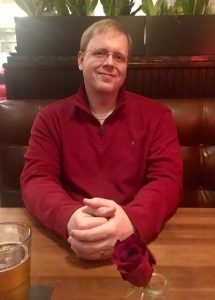 Even from a young age, Tom wanted to write. After doing things like racing bikes with his friends, Tom would return home and write (very) short stories. He was about seven or eight, so the stories were brief and awful. Among them was a "murder mystery" in which no one died (and, in fact, everyone recovered quite nicely in the hospital). In the intervening years, Tom has gotten over this problem with killing characters in his stories.
Tom's first series of books focuses on unconventional private investigator C.T. Ferguson. C.T. is a hacker who ends up as a detective because his wealthy parents make him get a job that helps people. Each case he works free of charge gets him back into his parents' good graces (and money). The stories are, of course, set in Baltimore.
Tom Fowler writes stories featuring flawed heroes, action, and plenty of snark. You can see all his books on his Amazon page.
The form you have selected does not exist.