No Middle Name collects all the Jack Reacher short stories into one volume.
Whatever your opinion of Reacher, this collection won't change it. I've read all the books (and seen both movies), so I like the character. However, I also recognize that he has his faults. Reacher can be pretty pompous and annoying at times, bordering on insufferable in some moments. The good and the occasionally vexing are all in here. The good wins out. I'll focus more on the longer stories in this review.
The book opens with "Too Much Time," a brand-new novella. (All the other stories were previously published somewhere.) In a small Maine town, Reacher witnesses what looks like a random purse-snatching and intervenes. Of course, it ends up being a lot more than that, and Reacher ends up arrested on a trumped-up charge. He has to figure out who had him locked up and why. And what was in that bag to cause all of this? It's a good story, probably not meaty enough for a full novel, but great as a novella.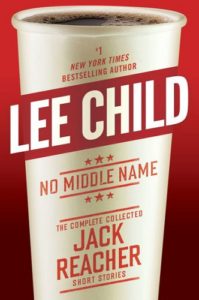 "Small Wars" goes back to 1989, when Reacher, still an MP, works the case of a young, fast-rising officer shot in her sports car on a random forest road. The local police run their own investigation, which complicates things. This story does a good job of showing how smart and adaptable Reacher can be, as he assembles some disparate facts, plus a few assumptions, and figures it out.
"Not a Drill" takes us back to Maine. Reacher, looking to see the northern terminus of I-95, finds himself in the Maine woods with some campers. When the hiking trail is closed by the military, Reacher and one of the hikers set off to figure out why. "High Heat" sets the wayback machine to 1977. Seventeen-year-old Reacher is in New York City in the middle of a heatwave. He runs afoul of a local made man, romances a girl, and sees a strange character outside of a car. This is one of the time Reacher borders on annoying, as the man's movements lead Reacher to conclude things about his past and eventually posit that he's the Son of Sam. Which, of course, he is. Still. the story is entertaining.
"Second Son" cranks the rewind even harder, showing Reacher as a preteen newly-arrived in Okinawa. He's mostly the same as he is as an adult, just smaller. In this story, Reacher beats up an older, smelly bully and manages to solve a case that has confounded the MPs. Child's writing is always compelling, and he's great at pacing and moving the story forward. This story strained credulity, however. I'll come along for the ride and buy Reacher as a smart brawler at seventeen. I could probably go down to sixteen, but that would be it.
"Deep Down" takes Reacher back to his Army days again. He's trying to find the spy among four female officers. Maybe all four are clean. Maybe one is dirty. One definitely ends up dead, but was she the double agent? "Guy Walks into a Bar," "James Penney's New Identity," "Everyone Talks," "The Picture of the Lonely Diner," "Maybe They Have a Tradition," and "No Room at the Motel" are shorter stories that complete the book. "James Penney's New Identity" was my favorite of the bunch. They're all pretty quick reads, usually just covering Reacher in one situation, rather than navigating a harrowing problem.
No Middle Name shows a great character in many different situations. Some are like Child's bestselling thrillers; some are more like vignettes. If you like Reacher, you'll like No Middle Name. If you've never read any of the Reacher books, this is a good introduction to the character. After finishing this book, go directly to Killing Floor. Do not pass Go.
But do buy this book.