Preamble: this movie review, and others you'll see on this site, will focus on both the movie and the writing. This is, after all, a site about writing by a writer. This review covers the recent movie Logan, the final entry in the Wolverine saga. Yes, I'm lame enough that I missed it in theaters.
The movie: Logan is set in 2029. In this dreary future, no mutant have been born in the last 25 years. No longer going by Wolverine, Logan (Hugh Jackman) is driving a limo and dealing with a healing factor that's no longer working well. The adamantium bonded to his bones is poisoning him and, coupled with his dodgy healing ability, is causing him constant pain.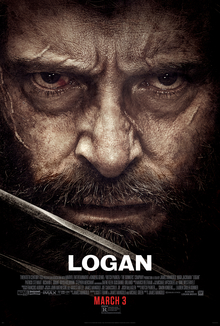 Logan also cares for Professor Xavier (Patrick Stewart), now 90 and suffering from Alzheimer's. If you think it sounds bad that the world's most powerful telepath has a brain disease, you're right: Xavier's seizures have devastating consequences for anyone around. The movie hints that one seizure killed seven X-Men. Only Logan seems able to function, more or less, during one of these episodes.
Logan and Xavier eventually meet Laura (Dafne Keen, terrific in her film debut), a mutant not born but grown in a lab by Alkali/Transigen. She also has adamantium claws and can regenerate, but she's eleven, and has all the self-control you might expect from an eleven-year-old. Not surprisingly (though Logan seems surprised for some reason), Wolverine's DNA runs in her veins. Transigen wants Laura and other escaped young mutants back, and to retrieve them, they send a clone of Logan called X-24.
Laura and the other young mutants are trying to get to North Dakota, where they will cross the Canadian border to some type of sanctuary. (Comic geeks, like me, may presume that Alpha Flight is going to host and protect them.) Transigen, its security chief Pierce (Boyd Holbrook) and X-24 find Logan and the kids before this can happen, of course, and we get a pretty epic final battle out of it.
The writing: I'm trying not to spoil anything here, so I'll just say that the characters (and what happens to them) benefited from good writing. Logan is much a road movie as it is a superhero one. If not for a few mutant powers, this wouldn't be a superhero movie at all.
The pacing is mostly good, though I think it drags in the second act. Logan was right to want to move on and not stay at the Munson family farm. The resultant scenes were good and moved the story forward, but it vexes me when characters do things they know are dumb. At least there's a payoff. Also, the Canadian border as some magical sanctuary bugged me. Even if Alpha Flight were there and waiting, Transigen had a squad of Reaver mercenaries. It didn't appear to be a sure thing, at any rate.
This movie is rated R, and it's a pretty hard R. There's a lot of neck stabbing, face stabbing, belly stabbing, leg stabbing . . . this is just a stabby movie. The violence is swift, brutal, and done well. Language is the other factor earning this movie its R rating. (Tidbit: you only get one F-bomb in a PG-13 movie.) I have no problem with cursing in fiction (books, TV, or movies), but several of the F-bombs felt gratuitous. It was like the movie was making up for being constrained in the cursing department with the prior two Wolverine scripts.
The story is good, though, and the characters (both good and bad) are written and portrayed well. I definitely recommend seeing Logan, but know going in that it's violent, bloody, and sometimes swears to hear itself doing so. But it's good.
——–
If you haven't already, go here to get your free sample chapters and character bios for my upcoming mystery novel The Reluctant Detective!