Robert B. Parker's Little White Lies, by Ace Atkins.
Little White Lies is Ace Atkins' sixth Spenser book since the Robert B. Parker estate chose him to continue the series following Parker's death. The books have ranged from just OK (Kickback) to quite good (Wonderland). Little White Lies lands solidly toward the very good end of the scale.
The venerable Spenser gets a referral from his longtime lover Susan Silverman. Connie Kelly wants him to find M. Brooks Welles, an alleged former CIA operative and current commentator who swindled her out of about $300,000 in a real estate scam. Spenser soon learns Welles is a phony; he fabricated his intelligence background and the resulting expertise he claims.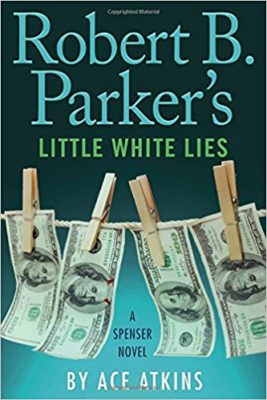 It doesn't take long for Spenser to tie Welles to a local gun club and its owner, Johnny Gredoni, who also seems to be involved in the land swindle. The ATF's interest means Gredoni (and maybe Welles) are running guns. Spenser soon finds Welles and the two men are shot at, and then Gredoni is killed. Now Spenser has to find Welles again, and he does, as Welles surfaces as Pastor Wells (no E) in the Atlanta suburbs. (Connie, still in love with Well(s)s for some reason, also winds up there.) With longtime ally Hawk in tow, along with Tedy Sapp and the ATF, Spenser goes after Well(e)s and his gun-running friends.
Little White Lies is a solid entry in the Spenser series. Ace Atkins has been on the Spenser beat for six years and, in that time, he has found the voice of not only our intrepid hero, but also the supporting characters. Hawk, Susan, Frank Belson, even Henry Cimoli, all sound like they did in the Parker heyday. That's no easy feat. Atkins doesn't write his own books in Parker's sparse style but he's done a better job of replicating it as the series has gone on.
The last several Spenser books that Parker wrote didn't measure up to the best in the series. The plots were a little thinner, and the stories more reliant on dialogue than narrative. Still, each book had some true Spenser moments, as well as the snappy dialogue Parker wrote in every book. Little White Lies is a good book and, more importantly, a good Spenser book. Welles, as the villain, is easy to dislike but not without charisma. (He's probably based in part on former commentator Wayne Simmons, accused of fabricating his CIA background and defrauding a lover in a real estate scam in 2013.) If you're a Parker loyalist who has been skeptical of the Atkins Spenser books, shelve that and pick this one up. I think you'll like it.
Recommended for Spenser fans, Atkins fans, and mystery readers in general.