Last weekend, our daughter's Girl Scout troop braved the snow to collect and donate a bunch of toys to Toys for Tots. We spent a couple hours in a toy store, and got some customers to donate new toys while we were there. At the end, we took all the toys up the street to a drop-off location.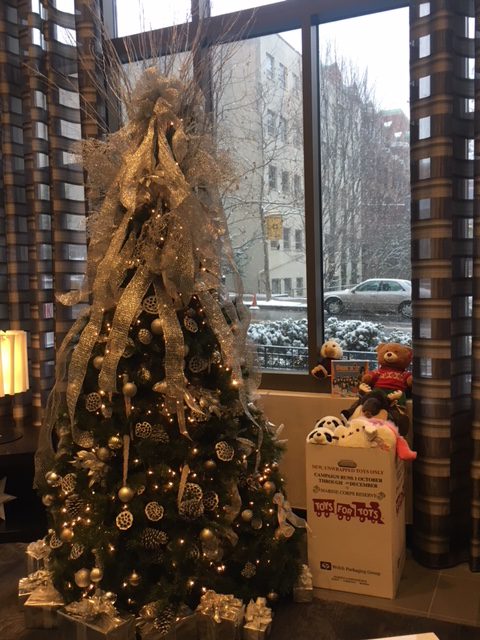 While we collected a decent amount of toys, we're just one troop.
This is how you can get involved and win something cool at the same time.
I know it's close to Christmas, but I'd like to raise money for Toys for Tots. It would have been great to buy a bunch more toys when we were at the toy store, but budgets are a thing. So I'm going to incentivize my readers to give. If you make a monetary donation of at least $15 to Toys for Tots via this link and send me the receipt, I'll enter you in a drawing to win a signed paperback. That paperback can either be The Reluctant Detective or The Unknown Devil, after the latter is available in five to six weeks. (By the way, the second book in the C.T. Ferguson mystery series will be called The Unknown Devil.) One person who donates will win. If you want to black out details other than your name and amount on your receipt, that's fine. Realize, however, that I'll need to know your address (or PO Box) in order to send you a signed book.
Here are the details:
What you can do: Donate at least $15 to Toys for Tots.
What you do next: Forward me a copy of the donation receipt via email. If you want to black out personal details, that's fine, but I'll need to see your name and the amount.
What I do: Enter everyone who makes the donation and emails the receipt gets entered in a drawing to win a signed paperback.
When it happens: I'll draw the winner and announce it after Christmas.
When you get your book: It depends on which book you want. The Unknown Devil is five or six weeks from release, and the paperback may lag a few days behind the ebook.
How you get the book: In the mail. I'll contact the winner. I will need an address or PO Box to ship it to you.
Why? Because Toys for Tots is awesome, and plenty of kids could use some more happiness this time of year.
If I get a lot of entries, I might give away a second book. So if you want to share this with anyone, feel free.
Ho ho ho, Merry Christmas, Happy Hanukkah, and have a good holiday, whichever ones you celebrate. Let's also try to make it better for some kids, too.